Mexico City, Mexico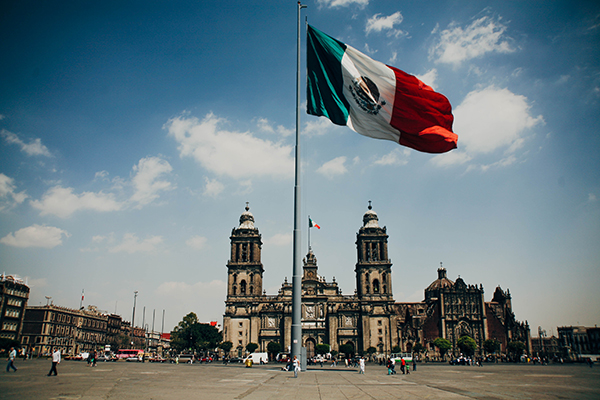 Getting There
Benito Juarez International Airport (MEX), is Latin America's 2nd busiest airport is located east of the city centre. 
Where: Av Capitan Carlos León S/N, Peñón de los Baños, Venustiano Carranza, 15620 Ciudad de México, CDMX, Mexico Call: +52 55 2482 2400
You can also travel by bus from the USA, Greyhound Buses are one of the largest intercity bus services available. 
There is also the option of driving from the USA, just be sure to carry your relevant documentation.
Getting Around 
Taxi is the most efficient way of getting round the city but the Turibus is the best mode of transport for sightseeing, this double-decker bus will you to the city's top attractions, complete with tour guides. Mexico's Metro Rail System is one of the largest in the world with 12 different lines to carry you across the city. Trains run every two minutes so you won't be waiting long at all. The Light rail only has one line with routes to and from the south of the city. Mexico City has four major bus stations (North, East, West and South) each serving a different region of the country.
Things to Do
Zocalo - Otherwise known as Historic Downtown, it is the most ideal starting point for sightseeing in the city. One of the largest squares in the world, it is home to many historic buildings or pre-Hispanic and colonial architectural styles, the City Hall, a Cathedral, and many other top attractions.
Coyoacan - This is the historic Colonial Art district where the country's national artists, like Frida Kahlo, and Diego Rivera, once lived. A charming area of tree-lined cobblestone streets, colonial-era mansions, churches, museums, and artisan markets make it one of the most pleasant places to spend a day in the city. 
Chapultepec Park and Zoo - Located in the middle of the city, this park and zoo is a convenient top attraction that is considered to be the largest park in Latin America. Inside the park are a host of acclaimed museums such as the Children's Museum, the Modern Art Museum, and a few others.
Music 
Plaza Garibaldi-Mariachi - Dubbed as the mariachi mecca of the world, this square has a number of cafes and restaurants, and groups of mariachis playing traditional folk music in traditional garb.
Mama Rumba - Great live salsa music, a lot of people dancing. If you're into Salsa that's the place.
Where: Queretaro 230, Mexico City, Mexico Call: 55 64 69 20
Where to Eat
If you are a foodie and you like to explore the social life of a city you visit, don't miss out on El Mayor it offers both great Mexican food and stunning views of Zocalo –Mexico City's historic downtown area.
Where: República de Argentina 17, Col Centro Call: +52 55 5704 7580
If you prefer something a little meatier why not try El Estanquillo, a fantastic steakhouse with friendly service and a great atmosphere.
Where: Acapulco 51, Col. Roma Norte Call: +52 55 5211 7632
Ways to Pay 
The Mexican Peso is the currency used in Mexico, some parts of the country the US Dollar is accepted although it is almost always more advantageous (cheaper) to pay in Mexican Pesos.
Tags: travel, tourism, mexico, tijuana, los algodones, nuevo progreso, Mexico City, Playa del Carmen, Mérida