Dental Tourism - Costa Rica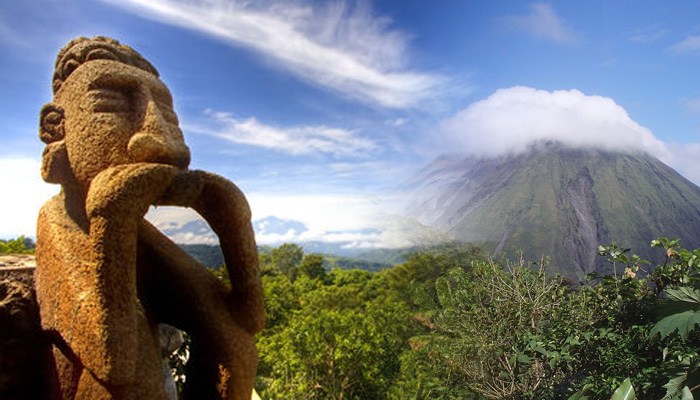 Country Profile
Costa Rica is on the land bridge between North and South America, with Nicaragua to the north and Panama to the southeast. The Pacific Ocean and the Caribbean Sea add stunning coastlines to a country already rich in natural resources. The decision to abolish the army in 1949 released funds that contributed to it becoming the top Latin-American country in terms of human development. The heterogeneous population of 4.5 million benefits from a constitutional democracy, governed by a president and a single-chamber parliament.
Rugged mountain ranges separate the coastal plains to east and west. These include over a hundred volcanic cones of which several are still active. The territory also includes several islands. A quarter of the landmass forms part of a natural conservation system. Although Costa Rica lies within the tropics, it has varying microclimates according to elevation and topography. The summer dry season lasts from December through to April, followed by a moist period for the rest of the year.
National Demographic
The small indigenous population lives mainly in secluded reservations along the central spine. The balance – primarily white and mixed Spanish-Amerindian – has settled along the coastal plain and in the cities. The official and primary language is Costa Rican Spanish. In the highlands, patches of several thousand people use traditional dialects. Ten per cent of the population speaks English. Along the Caribbean coastline, the Creole-English Jamaican Patois is common.
Telecommunication
There are close to 1.5 million landline connections and two-thirds as many cellphones. These connect internationally via the Central American microwave system, two satellite earth stations, two intelsats, and two submarine cables. Although state companies largely control internet and broadband, cable modem services are often private.
School System
The literacy rate of 95% is one of the highest in the subcontinent, owing to primary and high schools serving almost every community. The initial education phase is mandatory, while both are free. There are six primary years leading to a further three at junior-secondary level. After that, students specialize for two to three more years. The school program completes with a Costa Rican Bachillerato Diploma in arts or science.
Tertiary Education
The National Training Institute administers the vocational stream. Programs include agriculture & technology, arts and crafts, commerce & services, electrical, food industry, graphic arts, marine & fishery, materials technology, metalwork, textiles, tourism and vehicle mechanics. In the cities, students attend technical training centers, while in the hinterland they rely on libraries and remote study.
There are four state universities, including University of Costa Rica, National University, Costa Rican Institute of Technology, and Distance State University. All are extensive, compared to smaller private ones.
The University of Costa Rica in San Pedro Montes de Oca is the oldest and most venerable, having evolved from the University of St Thomas established in 1843. Its faculties include agricultural sciences, arts & letters, basic sciences, engineering, health, and social sciences. It hosts twenty-six research institutes and four agricultural research stations.
Medical Education
The Costa Rica program to supply universal healthcare to citizens and residents finds expression through the Department of Health. The United Nations World Health Organization ranks it in the top twenty in the world, and the best in South America. The Costa Rican Department of Social Insurance manages the public sector. There are also numerous private providers targeting medical tourists.
Costa Rica Dental Industry
The University of Costa Rica (San Pedro), the College of Dental Services (San José), and the Universidad Latina de Costa Rica (San Pedro and Heredia) provide dental training that is equivalent to American standards. The College of Dental Surgeons of Costa Rica has responsibility for regulating their activities.
Thus Costa Rica offers superb opportunities for western dental patients requiring top-class implant, veneer, crown and bridge treatments in a country where their currency goes further. Dental Travel Services is the premier dental tourism agency. We are poised to facilitate the process for you in <list of cities>[R1] , so that everything goes according to your plans.
Getting There
There are two international airports, namely Juan Santamaria Airport (SJO) in Alajuela, and Daniel Oduber Airport (LIR) in Liberia. These connect to every major center via a network of more than a hundred regional and local aerodromes. There are also Pacific seaports at Puntarena, Quepos and Golfito that connect to ferries and car rental firms.
Buses from Mexico, El Salvador, Guatemala, Honduras, Nicaragua and Panama both arrive to and leave from San José, the Tica Bus terminal is the most popular choice for locals and foreigners alike. There is also the option of travelling by train although it's not the most popular choice. In addition, there is the Daniel Oduber Quiros International in Guanacaste province and Tobias Bolanos International Airport also in San Jose, offering primarily domestic and regional transport.
Visitor Highlights
Costa Rica is the most-visited Central American nation, and receives over two million tourists annually. Some come for dental treatment sandwiched within rejuvenating vacations. The Costa Rican Tourist Board provides a wealth of information regarding leading attractions. You just need to decide whether you require a sun-filled tropical beach, a grand eco-adventure, the sights and sounds of scintillating cultures, or relaxation in almost unimagined comfort in a luxury hotel. 
Getting Around
Within the city taxi is your best bet for getting around, as they are convenient and affordable just be sure to tell the driver to start the meter, or "la Maria" to avoid being charged extra. There are also public buses available within the cities that serve most of the tourist attractions at an affordable price. Driving outside of major cities is not advisable as the roads can be quite dangerous. Easy Ride Shuttle service offers a New Airport Express shuttle, the shuttle runs 24 hours from any hotel San Jose downtown to SJO airport and vice versa and TransportationinCostaRica.com offers different airport shuttle services from the San Jose Airport to all Costa Rica destinations: Toll free 1-888-324 -9326
Things to Do
Museo de Oro Precolombino (The Gold Museum) - An underground museum below Plaza de la Cultura The collection contains 1600 pieces of Pre-Columbian gold work dating from 500 AD to 1500 AD.
Where: Calle 5, Provincia de San José                
Call: 2243-4202
Museo Nacional -The museum includes a large butterfly garden with many morpho butterflies and a collection of large stone spheres from the Diquis Valley near the Pacific Ocean.
Where: Calle 17 Avenida 2               
Call: 257-1433
Museo de arte y diseño contemporáneo (MADC) - Definitely the main institution in Costa Rica dedicated to contemporary art.
Where: Centro Nacional de la Cultura, Antigua Fábrica Nacional de Licores. Avenida 3, calle 15/17            
Call: (506) 2257 7202 / 2257 9370           
Website: www.madc.ac.cr
Music
Barrio La California Is the place to be if you're into the bohemian/rock crowd. Many bars have local bands playing every night.
Where to Eat
Bar Poas, This friendly restaurant offers local dishes as well as the more well-known continental dishes that we're all used to. You can always expect to meet somebody interesting here as well as receive useful advice about San Jose.
Where: Avenida 7, Calle 3 y 5 (Two doors down from the Pangea Hostel)            
Call: (506) 2-223-8677
Bagelmen's offers its clients good prices, excellent quality fast and healthy food. Very popular among tourists and American expats. Also, free internet!
Where: 50m West of Peripherals, San Rafael de Escazú                
Call: +506 2289 4616                      
Website: www.bagelmenscr.com
Arbol de Seda, this mostly vegetarian restaurant offers a beautiful quiet setting with giant and delicious portions. The Plantain burger is especially tasty.
Where: Barrio Escalante, on the east side of town              
Call: +506 2281-0513
Ways to Pay
The Costa Rican Colón is the currency of Costa Rica although the US Dollar is widely accepted.
Tags: cosmetic dentistry, dentist, costa rica